Personal Stories
taken from the book Easy Death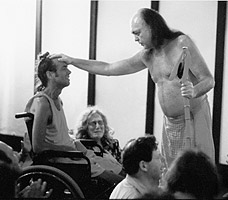 Avatar Adi Da Samraj with Lance
The Mountain Of Attention Sanctuary, 1997
From "Feel Me Infinitely Above and Shoot Straight to Me Like an Arrow"
(pp. 46 - 47)
This is a letter written to Avatar Adi Da from Lance Barham, a devotee who was dying of ALS (Lou Gehrig's disease).
My Adi Da,
Thank You so, so much! You are Absolute Love-Bliss. You have said, "Everything has already died. This is the other world." This is what I felt today with Your Darshan. I felt so Free in Bliss and so in love with You.
When you pressed the center of my forehead, I felt perfectly penetrated, like a hole. I don't even know who I am, nor do I care. I am so happy to see You. You are so Sublime and so Beautiful.
During Darshan, I had a vision of the Cosmic Mandala.* It looked like a tunnel with You as the Divine Star. It was huge. The Mandala was all I could see, with You in the Center. My primary feeling was that I felt like I had already died and that I was entirely with You. . . .
So much happened that I couldn't put it all into words, and yet nothing was going on. Just You! You are the only One, It is true there is Only You!
Your tears on my legs felt like the light of diamonds, and they penetrated every cell in my body with "Brightness". I am so happy to be here. . . .
Your eternal devotee,
Lance
* Avatar Adi Da uses the term "Cosmic Mandala" as a reference to the totality of the conditionally manifested cosmos (or all worlds, forms, and beings) which (He has Revealed) can be visually perceived as a pattern of concentric circular bands of colors, with a Brilliant White Five-Pointed Star at the center. See Part III in Easy Death for a full description and visual representation.
Read other Personal Stories from Easy Death
View Easy Death Table of Contents


Easy Death
3rd edition
by Avatar Adi Da Samraj
544 Pages Illustrated
$24.95
Contact Us::Privacy Policy::Related Sites::Audio-Video::Home Page
About the Author::What Others Have Said::Excerpts::Personal Stories

© 2008 The Avataric Samrajya of Adidam Pty Ltd, as trustee
for The Avataric Samrajya of Adidam (Is-Da-Happen).
All rights reserved. Perpetual copyright claimed.